---
VROOM Client Wins
We've been busy pitching and onboarding in March, all the while working away developing our service offering to deliver more for our ambitious clients.
We have had some super client wins of late and we look forward to delivering for these and indeed all our clients across SEO, PPC and Paid Social in 2019. We officially turn the ripe old age of 7 in April and it's been a Magnificent 7 thus far, here's to the journey ahead.
'It has been a fantastically busy first quarter for VROOM, now up to 14 team members & hiring for 4 more full-time roles at the moment on PPC, SEO and our Paid Social teams. So take a look if you're in market today to work for our Award winning team!' – Shane Curtin, Managing Director said.

Some notable client wins in March:
Guineys,
HairyBaby.com
Epic Irish Emigration Museum
Evo Payments
Industry Updates
We're not just here to take part. We're here to take over. Between St. Patrick's Day, the announcement of Conor McGregor's retirement, the new Google algorithm update that sent shivers down every SEO's spine and the revolutionary e-commerce Instagram checkout… oh and did we mention we turn 7 next week?! It's been a busy month on all fronts!

Sit back, grab that cup of coffee and read about the most exciting updates destined to change the digital landscape in the very near future.

Google's March 2019 Core Update
A broad core update was announced by Google on March 12th and the global SEO community held its collective breath in anticipation of the update's impact on website traffic and rankings. It turns out, it isn't as bad as it looks (phew!).

According to Search Engine Land, this change had a positive impact on many sites considered to be YMYL (Your Money or Your Life) sites (health, fitness, and wellness-related sites), which may have not been affected by the previous two updates in August (Medic) and September 2018.
However, Searchmetrics' analysis indicates that niche, single-subject pages have suffered the most from the March 2019 update. The cause might be that Google's algorithm seems to prioritise user signals and search intent. Metrics like time on site, page views per visit and bounce rates acquired more importance as ranking factors.

Retaining users on your website for a longer time period entails producing authoritative and valuable content on more than one subject (rather than single or niche keywords), so that users are more likely to click from search as well as spend more time on site.

In conclusion, user experience – and meeting the user's expectations in particular – looks like a big priority for Google this year. Websites producing high quality content and optimising for user intent will be the winners of 2019.

Google Average Ad Position Sunset
"Prepare for the average position sunset" was a message that many Google Ads managers received with mixed feelings. One of the original Search metrics, Average Position refers to the ordering of the paid search ads in the Google Ads auction.

If you were checking this metric on a regular basis, Google will now replace this metric with two new metrics pertaining to auction performance and SERP visibility: "Absolute Top Impression Rate" and "Top Impression Rate", which indicate what percent of your ads appear at the top of the page and absolute top of the page in the Search engine result pages (SERPs).
This update will come in to play from September 2019.

Google Ads Budget Planner
Google Ads introduced a new budget planner under the planning tools section. It will not provide advice for penny-wise and pound-foolish advertisers, but it will give some useful insights on how changes in spend could impact campaign performance.

Basically, Google will generate a draft budget plan according to the target and the variables you set. The forecast will show how your campaigns are expected to perform with the existing settings and how alterations in spend will influence your key metric (clicks or conversions).

It sounds like a handy tool, but it needs a minimum amount of data to work. In other words, new and small campaigns may not be eligible for it. Google also made clear that:

"Forecasts are directional and are updated every 24-48 hours. They use recent campaign history as well as auction data.
It takes holidays and other seasonal traffic into account depending on business type and location.
Google also says forecasts are more accurate the closer they're generated to the start date."
Google Ads Policy Manager
In 2018 Google removed more than 2.5 billion ads due to violations to its ad policies. That's nearly 6 million ads per day. The search giant is working hard to keep the ecosystem safe by enforcing their policies across platforms.

While it is welcome to see that Google cracks down on ads aimed at scamming or misleading the public, these rules also increase the probability of well-intentioned marketers unknowingly breaking some of them.

To enable marketers to get a better understanding of whether their ads are experiencing any policy restrictions, Google will release a new Policy manager in April. The new platform will "provide a centralized and customized experience in Google Ads where you can monitor policy restrictions of ads, keywords, and extensions across your entire account." Google also promised that they will keep adding new features, such as "recommendations for fixing your ads, a history of your appeals, an overview of your account's certifications and more."

E-commerce Checkout on Instagram
One of the most exciting updates this month was announced by Instagram, with a beta version of the in-app checkout feature. With just a few seamless clicks, Instagram will allow to purchase products without leaving the app, drastically shortening the journey from product discovery to purchase.

Furthermore, the purchase process will be even shorter and sweeter, as users will only need to enter details (name, email, billing information and shipping address) the first time they check out. Customers will also receive notifications and tracking information directly on Instagram.

At the moment, this feature is available only to some selected brands in the US but will be rolled out globally in the coming weeks.

Is this the end of e-commerce as we know it? Certainly not, as many users will continue to shop online by actively searching for specific products or brands before hitting that 'Buy Now' button. However, the new era of Social Media commerce has entered an exciting new level.

Bye-bye Facebook Relevance Score
Facebook announced that April 30th will be the last day you will see the Ad Relevance Score in your ads manager. Does it matter? Well yes, since the Ad Relevance Score is one metric which advertisers can use to tell how their ads are estimated to resonate with audiences.

From now on, Facebook Relevance Score will be replaced by no less than three new dimensions: quality ranking, engagement rate ranking and conversion rate ranking.

These new dimensions will measure the ad's perceived quality, expected engagement rate and expected conversion rate when compared to ads with the same optimisation goals and audience. When used together, they could help advertisers "understand whether changes to creative assets, audience targeting or the post-click experience might improve performance."

Pinterest Catalogs & Shopping Ads
People land on Pinterest in a shopping mindset: they are open to discover new products, look for inspiration or just check the latest trends. Thus, the introduction of catalogs couldn't make more sense. Brands can now upload their catalog to Pinterest and advertise their products with dynamic Product Pins and shopping ads (does it remind you of something?).

Pinterest provided pinners with three new spaces to find style inspiration:

Shop a brand: A new dedicated section for products from specific retailers allowing to dive into a brand's catalog by clicking "more from [brand]".
Personalised shopping recommendations: alongside usual boards, you'll see in-stock ideas related to what you've been saving. Just click "more ideas" then the shopping tag to start shopping ideas picked for you. Tap + to add the Pin to your board, or click the Pin to go straight to checkout on the retailer's site.
Shopping search: With more in-stock Product Pins, there are more products to search. Just search for a product like "midi skirt", "men's watches" or "outdoor furniture" and shopping results appear on the top of home feed. To start shopping, click "see more".
Twitter New Video Analytics Tool
Twitter unveiled a new set of Publisher Insights tools within Media Studio informing advertisers on the best time to publish video in order to "maximize engagement, conversation, and viewership."

"Timing is Everything" Insights tool will allow creators to see when users are engaging with content, displaying historical data in a graph that shows days and time in which audiences are on Twitter watching and engaging with video.

When consulting the insight draft, though, keep in mind that Twitter doesn't show data from your account videos, but when people are generally watching any video on Twitter.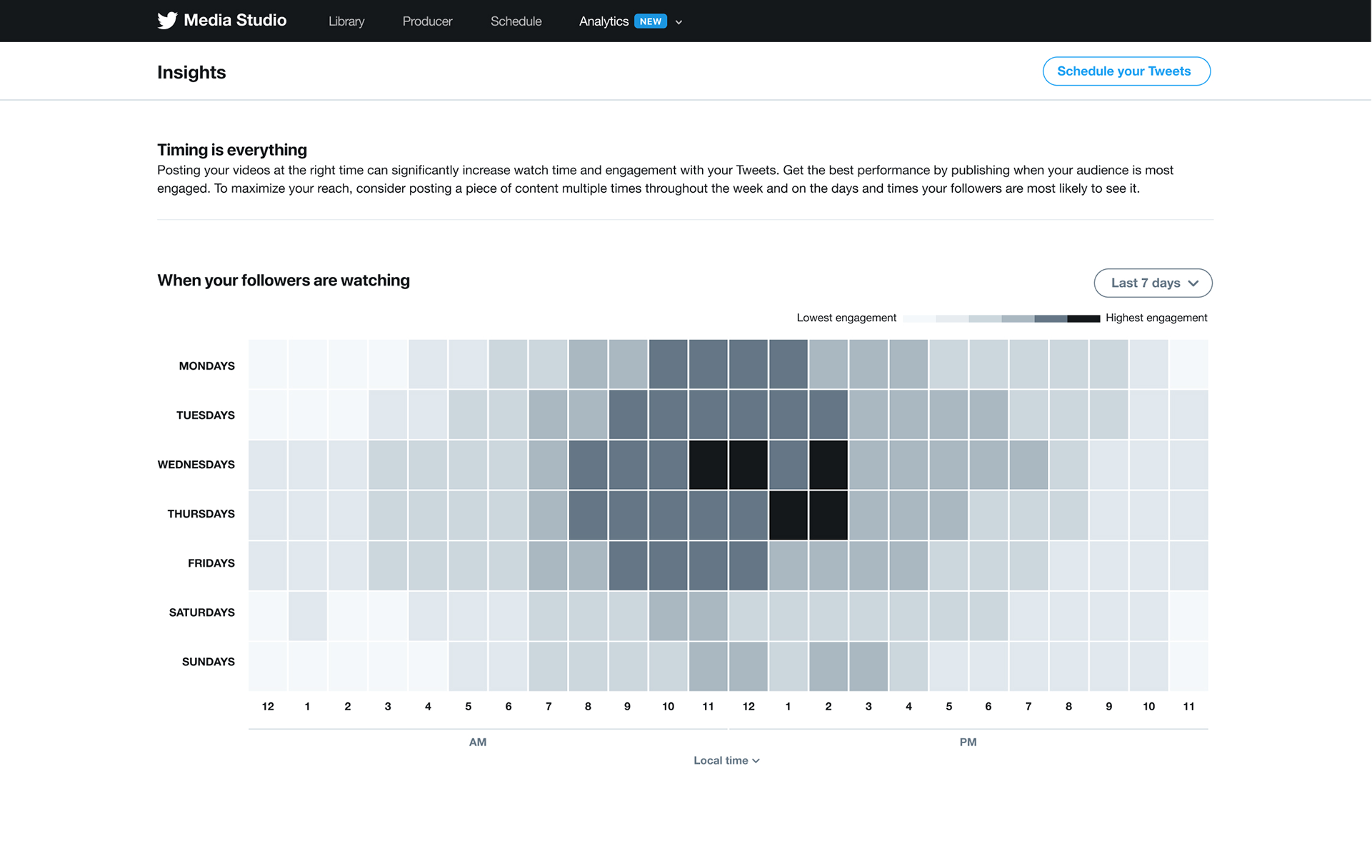 At VROOM Digital, we endeavour to provide you with an update of all things digital that popped out in the previous 4 weeks so make sure you follow us on Twitter, LinkedIn and Facebook and don't miss the next edition of #VROOMDigiJuice! Thanks for reading.